Gone, but never forgotten. A very special friend.
Click on a picture to enlarge it.
Meet Hunter. He showed up on our door step one day and just made himself at home. From the very start, he was just one of the dogs.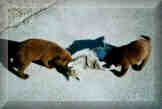 Fish are another story. He only stops fishing long enough to catch a "cat nap!"

When he is not playing with the dogs or the fish, he helps around the office. He makes a great paper weight and really knows how to keep that in-basket empty of all work!

He has never liked to sleep alone:

He's our Hunter!