The following is an article written for "The Labrador Quarterly" in May 1986, which explains how we got our start: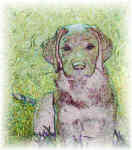 I have always had an interest in dogs. My first dog was Riley, a cocker spaniel which came into our family when I was eight. During our initial meeting, I thought he was so cute when he was on the other side of the fence, but it was a different matter entirely when we were face to face. I hid behind my father and wouldn't get near him. I overcame my fear and shortly thereafter added a German Shepherd to my growing menagerie of a cats, pigeons, chickens, Peregrine falcons, horses, and a raccoon.
My training career started when I exchanged care for a horse boarded on my parent's small horse ranch for training lessons and help in training the shepherd. This shepherd turned out to be a biter which had to be destroyed, but she started me on the road to dog training and showing.
I entered my first dog show at the age of 12 with Tinky, my second shepherd. She was a dream to train and we won several High in Trials. Even college did not slow us down, many a boy friend found himself sitting at ring side while I worked my dog. During college, I also became involved in scent hurdle racing and top dog competition. Tinky and I were proud team members of the German Shepherd Dog Club of Southern California. This team won the scent hurdle races at the 1967 Top Dog competition and appeared on TV on a Wide World of Sports Program. A race during a double-header at Dodger Stadium impressed the stadium managers enough to ask us to perform at other events. This lasted until the food vendors complained that they were losing business because no one was leaving their seats to buy food and drinks during our performances!
After college, a short career as a flight attendant (we were called hostesses then) and marriage to Rod, a career Army officer, interrupted my close association with dogs and brought many changes to my life. Tinky stayed with my parents when I left California for a career as an Army wife and a tour in Vietnam with the USO while Rod was serving his fourth and last assignment there. We reclaimed Tinky after we returned from Vietnam for an assignment to Fort Leavenworth, Kansas, and it was there that I learned that my shepherd and husband really disliked each other. She would lay between the bathroom and our bed waiting for him to come out, growling deeply while positioning herself between Rod and the bed. It made for interesting evenings!
After Tinky died, there were long discussions about choosing another dog. In Vietnam, Rod had fallen in love with Devil, General Creighton Abrams' black lab bitch. The military shipped a large group of dogs to Vietnam for use as guard dogs. All the labs in this group failed miserably at this job (as they rightfully should!). Retrained as mine sniffing dogs, the labs did a commendable job. Devil was one of these dogs. She survived the job and retired to a life of ball chasing down the corridors of the headquarters' building in Saigon.
The trainability and temperament of the labs in Vietnam so impressed us that we decided this would be our first choice. We were fortunate to find an ad from Barbara Hogan's Could Be Kennels and spent two weekends at her house looking at dogs trying to find a black bitch (like Devil). Barbara had none available and as we prepared to leave, a little chocolate bitch tried to follow us. She howled, whined, and made such a fuss that I thought we had caught her foot when we shut the door. The room was full of people, but each time we tried to leave, the same little bitch attempted to follow. Needless to say Could Be's Cinnamon Treat UD, WCX (Liza) went home with us. My first lab had picked me - - not a particularly auspicious beginning for a breeder!
Rod and Liza started obedience training as soon as I could find a class for them. I will always be grateful for my husband's endless patience and sense of humor. Imagine if you can - - two disciplined military officers (the instructor and Rod), a rowdy lab puppy, and a very pregnant "no do it my way" wife! It was not a thing of beauty, but we all survived, however, and Liza was class valedictorian. Shortly thereafter, the birth of our first daughter and reassignment to Fort Campbell, Kentucky put Liza's formal obedience training on hold.
Passing the inspection to move from government quarters at Fort Leavenworth was not without its challenges. It seems as though Liza, in her youthful exuberance, had discovered a fondness for drywall and had chewed several big holes in and through the walls. Newspapers, spackling compound, paint, dim lights, and a husband who continuously positioned himself between the inspectors and repaired walls got us through the inspections without a deficiency. Pity the poor kid in the next family who leaned in the wrong place against one of those walls!
After a few months of adjusting to the demands of a new home, motherhood, and Rod's grueling job, I thought it was time to get back to working with Liza. Field training was big in that part of Kentucky, and I was fortunate to be able to work for Knox Wright, one of the top field trainers in the area. Knox and his friends were very tolerant of a novice and I am thankful for this time in the field. It gave me a great appreciation for working dogs.
About this time I decided that I might like to breed labs and once again got in touch with Barbara Hogan. She had a litter out of Ch Shamrock Acres Light Brigade and Ch Could Be's Black Angus Heifer. I bought a yellow male out of this breeding - - Could Be's Brigade Commander (Skipper). He went RWD in our first conformation show at just six months of age and went on to take several points from the puppy class.
The army moved us to California, and once back there, I joined several clubs and bought a finished champion bitch - - Ch Ridgecrest Holly Berry. My showing techniques were improving and I had several people who had reserved puppies out of Holly's and Skipper's first litter. These plans came to an abrupt end when Skipper and Holly were killed after escaping during a training session. It appeared that after running the beach for a time, they headed home and tragically did not make it across Highway 1, a major freeway between our home and the beach. Many people stepped in to help, but two of them stand out in my mind - - my husband and Rick Whitehill. Rod spent that first night walking the beach looking for the dogs and calling their names. When it became too dark to see, he sat in the RV with the door open hoping they would find him. We found them along Highway 1 late the next day. Rick not only called to offer sympathy and support, but also offered to start looking for a puppy for me. He knew that once I got over the loss, I would want to get back into dogs.
With the loss of the conformation dogs, I got serious about obedience and Liza's status changed from couch potato to top dog. I started working her in obedience and found that I had that one in a million dog. In her first three shows, she had an average score of 198 with two High in Trials and a second place. She cannot be faulted for the second place because I did not come back to the heel position on the stand for examination - - handler error! I am not sure, but I think she may have been the first chocolate lab to go High in Trial and/or to win a placement at Gaines. I do know that she was the first chocolate lab most judges had seen because they sometime asked if she was a Vizala, a Weimaraner or a Chessie.
We closed out the year of 1976 with a bang. Liza ranked Number 4 lab in the nation in obedience after only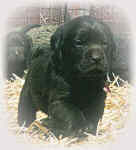 five shows; she placed 4th in Novice at the Gaines Western Regionals; our second daughter was born; Rick found us a puppy; we selected a kennel name; and we moved to Saudi Arabia. JanRod's Sunhill Cindra (Cindy) joined us shortly before our move to the Middle East. She became our foundation bitch and produced very well for us. A puppy injury prevented one hind leg from fully developing, keeping her out of the show ring, but never slowing her down. Our kennel name, JanRod, was picked shortly before our move. Many people use a favorite area or street as their kennel name, but because the military had us always on the move, the only constant in our lives was the two of us. Thus we became JanRod Kennels.
We returned to the States in 1978 and the army stationed us in Texas. Over the next several years, we bred Cindy three times to Ch Franklin's Golden Mandigo CD WC. The first litter produced Ch JanRod's Little Miss Muffet CD WC, my first home bred champion, first BOB winner from the classes, first group placer, and the one I wish I had kept. After the first litter, I placed Cindy in a wonderful home with Lloyd Woodhouse (Woody), the coach of the National/Olympic Shotgun Team, and whelped two litters in partnership with him as JanWood Kennels. These next two litters produced two BOB and specialty winners - Ch JanWood's Lady Perkins WC (Perky) and Ch JanWood's Tigger Treyman (Tigger). Cindy won the Brood Bitch class at the 1984 HLRC Specialty with Perky and Tigger behind her. A very great honor for a young breeder.
My first specialty winner was Ch Mandigo's Irish O'Blarney CD WC. She went WB and BOW at the Houston LRC show in 1979 under George Bragaw. I was still very much a novice, but I was improving. Irish and I had just won a large open yellow class and I was elated. As I stood by the first place marker, someone patted me on the back and told me to "go get the points!" All I could think of was "what points?" "Do you mean all that I got for this win is a blue ribbon?" Then to top everything off, I had to stand in the ring and watch one gorgeous bitch after another walk into the ring. Irish won on her own that day. Those few well meaning words had totally defeated me.
Once again the military stepped in and we were off to Saudi Arabia. I either sold or placed all of my dogs except Liza and my multiple Best of Breed winning Wirehaired Pointing Griffon, Doris. They spent the next two years with us in Saudi Arabia. Upon our return to the States, Woody and I started breeding Perky. Her first litter by Ch Anderscroft Mijan's Bravo produced 5 puppies. It was a special litter to me, because I think it shows the versatility that I am trying to achieve with my dogs. Both Ch JanWood's Sugar N Spice and Ch Duke of JanWood went to hunting homes. I kept JanWood's All That Glitters. She is pointed, has several specialty class wins, and has produced very well for me. The other male, JanWood's Rowdy, is a police sniffer dog in San Antonio, Texas. The final bitch is a family pet and hunting companion. A second breeding of Perky to Bravo produced JanWood's Lemon Juice Dust. She needs one more major to finish. This hopefully will happen soon, because Woody and Juice want to finish her field training. Juice is so crazy about retrieving that we do not use liver in the breed ring. A ball is all that we need.
Perky's last breeding was to Ch Mallard's Flying Cloud of JanRod WC (Zack), a black male I imported from Sweden. This breeding has produced one champion, two with major points, and 2 with WCs until now. Ch JanWood's Secret Agent (Spook), co-owned with Diana and Allen Smith; is the number 17 lab in the Nation as of this writing and Perky's 3rd champion.
Zack was my first import from Sweden. After I was unable to buy his father, International and Nordic Ch Mallard's Clay Basker, I placed an order for one of his bitch puppies. When the litter arrived, there was one male puppy that remained unsold. After a call to the airline confirmed that my bitch and the male could travel in the same crate for the same price, I called the breeder and told her I wanted both puppies. The importance of this phone call became immediately apparent shortly after their arrival in California. The bitch and I were not compatible. I placed her in a pet/obedience home where she has done very well and is one leg short of her UD.
Zack and I hit it off from the beginning. He not only looked like his father, but he also had that wonderful personality that I find so appealing. It is a personality that always looks on the brighter side of life. It doesn't matter whether he is in a ring full of other stud dogs or lying on his back with puppies crawling over him, he is always wagging his tail. Zack has also lived up to my hopes in the whelping box. He is producing good looking working dogs. He has puppies with titles on the bench, in the field, in tracking and in obedience. He also has puppies that are in training for guides for the blind, search and rescue, and service dogs. Just when I thought I couldn't be any happier with him, he won the large stud dog class at the 1990 National with Glitter and Perky puppies behind him. What a thrill!
My other Swedish import is a chocolate bitch called Alvgarden's Mischief Maker of JanRod (Allie). I knew I was going to have fun with her right from the start. I had personally gone to Sweden to pick her up. On the return flight from Northern Sweden to Stockholm, SAS allowed her to ride in the cabin without a crate. After meeting the stewardesses and my seat mate, she rolled over on her back in my lap and promptly went to sleep. A blizzard hit New York shortly after our arrival there and for the next three days, Allie turned the TWA terminal into her own personal playground. She chased balls down the corridors, explored the terminal and baggage handling area, played in the snow, and after running out of dog food, enjoyed her breakfasts of strawberry yogurt and cornflakes. We finally arrived home four days late. Allie was no worst for the wear, but I looked like something she had found in the corner of the baggage room.
Allie is showing promise in the show ring. She won the open chocolate class at both the LRCSC and GGLRC shows and has gone BOS and BOB in the two specialty matches she has entered. She is most famous for her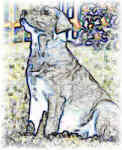 realistic dead dog trick and brought the house down at the National during the judges' seminar. Barbara Holl was familiar with this trick and had Allie demonstrate it during the seminar. If you would like to see it, just ask. Allie loves to perform!
My other chocolate bitch is a Superman granddaughter, JanRod's Apple Butter CD. She was not a showman, but still managed to get several RWBs, a Best Puppy in Specialty, and several class wins at specialties. She has been bred to three different studs with each litter producing 12 puppies. Ann Jones has Butter's first champion, Ch JanRod's Wapato Butter Crisp. His sire is Wingmasters L-Ten-Eleven. Butter's second litter was sired by Ch Henning Millwill Coppertone. This litter produced JanRod's Toblerone. He has several specialty class wins and we are looking forward to many exciting wins with this young dog. Her last litter is just out of the whelping box and was sired by Eng Am Can Ch Lindall Mastercraft JW.
Many of the things that my dogs have done are because I was lucky enough to sell them to exceptional homes. Three of Glitter's puppies went to such homes. Freddie Jackson and JanRod's William of Wintersky, CD, TD, JH, WC, NAHRA Starter Certificate, Western Regional Qualifier and a member of the 1991 NAHRA All American Team, is proving that bench dogs can do it in the field. Andrew Hasselbring took his 6 month old Glitter puppy to an obedience cluster last November. She left three days later with two scores in the 190's, a first place in a class of 35 dogs, and a new name - - Jessie Sterling Heart JanRod CD! The third pair is Kathryn Van Dierendonck and JanRod's Bugleboy Reveille, CD, JH. Besides doing well in both the field and obedience, he has 7 points, a BOB, and a Group Placement in very limited showing. I can't tell my puppy buyers how much I appreciate them.
For the past few years I have been the show chairperson for the Golden Gate Labrador Retriever Club and was the co-show chairperson for the 1990 National. With these shows behind me, I can once again handle my own dogs in the ring. I am especially looking forward to handling two puppies out of the last litter sired by Tigger. Woody kept a male, JanWood's Christopher Robin and I kept a bitch, JanRod's Kissin' Cousins. They are both doing well with their retriever training and will fit in very nicely with our program for breeding good looking working dogs. Watch for us at the shows.
The following is an article written for "The International Labrador Review" for their Summer 2003 issue:
This article starts in the middle, in the middle of our life with Labradors. (The story of our beginning in Labradors can be found on our web site at www.janrod.com). It was 1992 and we were no longer newcomers, but we were also not considered old-timers. We had been in the breed for almost 20 years and produced many champions with wins of WDs or WBs at specialties. But we had not won the big one a Best in Specialty.
Our first Best in Specialty came in September of 1992. I had not planned on attending the Southern Cal Specialty, but at the last minute decided to go. I took two dogs and my special Ch JanWood's Secret Agent CD, WC, a.k.a. "Spook." He was sired by my Swedish import, Ch Mallard's Flying Cloud of JanRod WC, a.k.a. "Zack," and out of my home bred Ch JanWood's Lady Perkins WC.
The day was full of pleasant surprises. My black 9-12 puppy bitch, JanRod's Lady Solitare (Ch Beechcroft's Citadel x Ch JanWood's Mountain Mist), won her large class in Sweeps and went on to win Best in Sweeps over an entry of 103. This was my first Best in Sweeps and I didn't think it could get any better than that!
Another dog I bred won his class, but did not go any further. Bitches brought more smiles and pleasant surprises for me. A Zack daughter, Ch Dark Star's Uptown Girl, won her class and went on to win WB from the Bred By class. Now it was Spook's turn. He had a very successful show career until now. His first points came from the puppy class and he had taken a BOB and Group 2 from the Open class before his second birthday. But that day, I was not expecting to take my first Best in Specialty under Kendall Herr. When I made the final cut, I was ecstatic! I ended up in front of the line and watched Kendall walk to the other end to look at two wonderful bitches, BISS Ch Breton Gate Cairngorm CD, JH and Ch Inspiration's Wish Me Back. I just knew that Kendall was going to put one of them up for BISS. When Judy Heim and Wishes walked toward me, I knew Kendall had made her choice. You can imagine my surprise when Judy asked me to move up. I said "What?" Then my legs started shaking and I knew I would fall on my face if the judge asked us to move again. She didn't and Spook and I had won our first specialty!
The weekend didn't end there. Uptown Girl received a JAM and Best Bred by Exhibitor. The following day, Ch JanRod's Butter Bear SH (Wingmaster L Ten Eleven x JanRod's Apple Butter CD) went WD and BW for a major under Dr. Michael J. Woods. Bear finished the following year by going WD under Constance Barton at GGLRC. Not bad for brown!
Spook continued his winning ways. He was shown infrequently because I did the handling and my family and work kept me busy. We rarely traveled out of our area, yet he was a top ten dog and group winner. Spook continued showing in conformation while he was in training for the field and obedience. At one show he won breed, changed leads and completed his CD degree with a score of 193. He changed leads again and took a Group 1! He was a very versatile dog.
In 1996, he won Best Veteran in Sweeps at LRCSC and was a Top Producer for the year. Spook died at the age of 12, but he lives on, not only in our hearts, but also in print. He was used by Purina for some of their ads and is also the dog on the AKC's Visa Card. My daughter, Carrie, took the picture and has had several of her pictures published in books and calendars. She is quite the talented lady with a camera and took most of the pictures included with this article.
Spook passed his winning ways to his get. They not only hold championships, but some also work in various areas as service dogs. One of his sons is a search and rescue/avalanche dog in Switzerland. Another, Jesse, is an Arson dog with the Fullerton Fire Department. Lightning is a working guide dog and Tippi is a breeder for Guide Dogs of America. Spook's son, Ch Brawner Creeks Max a Million, won BISS at the Dallas-Ft Worth LRC under Linda Oldham. A daughter, Ch Brawner Creeks-Tysonmatahari CGC, was WB and BW at SMLRC under Carol Liepmann.
Spook's best known son is GMHR, Int (FCI), Am and Mex Ch Cook's Midnight Bandit, MH, TT. Bandit is out of our second Swedish import Ch Alvgarden's Mischief Maker of JanRod, JH, WC, a.k.a. "Allie." Bandit was the breed's thirteenth Champion-Master Hunter and the first ever Grand Master Hunter-Champion-Master Hunter. He was trained and handled to his hunting titles by his co-owner, Jim Cook. Jim was a competitive fisherman who just wanted a pet and bought Bandit as his first dog. He was persuaded to train Bandit for hunting and things started snowballing from there. I showed Bandit to his championship and managed to pick up several BOBs and group placements along the way. He was also WD and received a JAM under Barbara Gomez at LRCSC. At GGLRC he went RWD under D. Coulson. He has received JAMs at many shows, including the LRC National and the Potomac. I also had the pleasure of being on the other end of the lead when he won an All Breed Best in Show!
Spook's littermate, Ch JanWood's Mountain Mist WC, a.k.a. "Misty," was not one to let her brother keep all the limelight. She was a BOB winner from the classes and finished with 4 majors. She was also a Top Producer in 1996. Her specialty winning offsprings include JanRod's Lady Solitare (Best in Sweeps) and Ch Midnight Ice of JanRod . Both were sired by Ch Beechcroft's Citadel. Ice was BOS in Sweeps, WD and BOS at the Canadian National Specialty in 1993. This breeding to Citadel was a very successful breeding. It produced two other champions, Ch JanRod's Bo-Mar Total Eclipse (mother of a top ten dog), and Ch JanRod's Citadel's Catapult. Another sister, JanRod's By Golly Miss Molly UD, did very well in the obedience ring receiving her Utility Degree. Molly was pointed and had six BOB before her owner stopped showing her.
Misty went to live with Debbie and Flip Morton in March of 1993. This was the beginning of another successful partnership for me under the name of JanLon. Debbie and I bred Misty to Ch Tweedcroft Debonaire later that year. This litter produced Ch JanRod's Gemini Dream. Misty's next breeding was to Tweedledum Brookland Savoy with two more champions produced in this litter, Ch Attaboy Bravo Holy Spirit and Ch JanLon's By Leaps and Bounds, a.k.a. "Twills." Twills won WD & BOW at the LRC of Hawaii under R. E. Beckwith in June of 1996.
Our next dog to go BISS was Ch JanWood's Christopher Robin CD, JH. He was BISS at the Dallas-Ft Worth LRC under Erik Bergeshagen in March of 1995. I just knew that he was going to be special right from the beginning. His mother, JanRod's Sunshine Calypso (Zack x a Perkins' daughter), decided to have her puppies on the day I had visitors arriving from Sweden. They had barely gotten through the door when off we went to the vet's. The first puppy was breech and stuck in the birth canal. All I could see were the hind feet and tail. The vet had no more luck than we did and left to prepare for a C section. His parting words to me were "Pull as hard as you can during contractions. You can't hurt the puppy as it is probably dead."
So I pulled and pulled with my fingers sliding down the little legs to the feet, when all of a sudden, out she popped! She was squealing mad and very much alive! My vet came and took her to the back, and while he was gone, Caly had another puppy. Then another. The fourth puppy was born a short time later, but all were dead. The delivery had taken too long. The fifth puppy was born about 20 minutes later, and she also looked dead. My vet was able to revive her, but she had brain damage and did not last long. I had given up hope when Caly delivered her sixth puppy - Robin. He was very much alive and letting the world know about it. While I was drying him, Caly had her seventh and last puppy, Ch Alex JanRod. He started his show career by going Best Puppy in Specialty at LRCSC under Nancy Martin in 1990. He finished very quickly and won JAMs at almost every specialty he attended.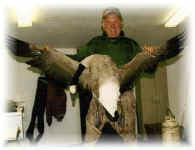 Robin went to live in Colorado with Lloyd Woodhouse, the "Wood" of my first partnership, "JanWood," and spent the first two years of his life hunting with Woody. Woody called often telling me about his hunting trips and about the great job Robin was doing in the field. Then shortly after he turned two, Woody sent Robin to me for a "visit." Woody is the shotgun coach for the US Team and they were gearing up for the Atlanta Olympics. He would not have much time for hunting and thought it was a good time for me to start Robin's show career. Robin started with a major and two RWDs to majors. Then he coasted for a while. During this time, I decided to put a WC on him. Since I had a "trained" hunting dog, off we went to a hunt test without any prior practice sessions. It was raining and the wind was blowing hard, but Robin nailed the land retrieves. The water retrieve started on an elevated bank. Robin marked the first duck, and on command, leaped off the bank into the water and disappeared! All I could see was a floating duck, white caps, and dark water. No dog! Just as I was sitting to take off my boots, Robin surfaced. He was coughing and snorting, but heading toward the duck. I could tell that this was not going to be a fast retrieve as Robin was swimming like a puppy head up in the air with his butt dragging on the bottom. He completed the retrieve, but never changed his swimming style. After reassuring the judge that my dog really could swim, we set up for the live flier. Once again we stood on the bank, once again Robin marked the bird, and once again Robin leaped off the bank and disappeared under the water. He came up faster this time, but had not changed his swimming style. The judge mentioned that she had never awarded a WC to a dog that could not swim, but he had fulfilled all the required tests, so "Congratulations." I called Woody when I got home and asked how a dog could retrieve all of those ducks and geese I had been hearing about without knowing how to swim! He reminded me that he hunted mostly in the northwest and the water was usually frozen during that time. After swimming lessons, Robin earned his JH with style.
You would've thought I had learned my lesson, but not me. I thought a CD would look very nice behind his name, so after two weeks of training in my driveway, Robin and I headed to an obedience show. We went into the ring, the judge gave us his instructions, and said "forward." Off we went. Robin was heeling beautifully. The judge said "halt" and Robin gave me a perfect sit. The judge walked behind us to check the sit and then said "forward." Robin jumped up and twisted around to see who was behind us! The judge said "left turn" and Robin turned his head to see who was back there. This went on for almost every command during the heel on lead. By the time we got to heeling off lead, Robin was accustomed to the judge being back there and we had no more problems. Robin got his first leg and I got a lecture from the judge on doing ring prep before bringing a dog into the ring! Robin finished his CD in the US and Mexico in straight shows with class placements at all breed shows and a High Champion of Record at LRCSC.
Robin followed in his cousin Spook's footsteps by ranking in the top ten for several years, obtaining group placements, and appearing in ads for Purina. One particular shoot will always rank high in my memories. The director wanted the dogs to stand on a platform and look into the distance. At a signal from the director, the dog was to look at the camera. All of the dogs were either field or conformation dogs, none of which had been taught to stand alone on a platform while their handler stood to the side. Needless to say, the dogs were not cooperating and tempers were rather short.
The day had started at 6 a.m. but Robin and I were not called until 4 p.m. As we walked past the crew, the director asked "Is this dog going to cooperate?" I said he would do anything they wanted him to do, and that my daughter, Carrie, was here to help and we would be fine. The director then commented under his breath, "I'll kiss your a.... if he does." Robin stood on the designated spot and I stood in front of him with a handful of food behind a wall of cables, mirrors, and lights. Carrie stood behind the director. The director said "shoot" and I told Robin to stay and watch me. The director said "Call dog" and Carrie said "Robin." The director said "reset" and we started all over again. This went on for several minutes, until I heard the director yell, "What is that?" "What is that dog doing to my set?" Robin was drooling! I had not been able to give him any food, and after all, he is a lab! A bite of hot dog and a towel solved the problem. We took a few more shots and the director yelled, "That's a wrap!" Everyone started cheering and clapping. I went to Robin and started heading past the cameras, when the director rushed behind me, knelt down and kissed my a.....! A day to remember!
Robin's sister and problem puppy of the litter was JanRod's Kissing Cousins. KC was co-owned with Harriet Hyde and Robin Walls and we bred her under the kennel name of Janneka Way. She was shown and gained 14 points including one major, but never finished. She was a very nice bitch and moved nicely, but the pulling I did at birth dislocated all her toes on one hind foot and one toe on the other hind foot. Her one hind foot looked just like a rabbit's foot long, pointed and rather flat. Most judges took one look at her feet and sent her to the end of the line.
Though she never finished, she proved her worth in the whelping box. Her first litter was sired by Tweedledum Brookland Savoy and was four bitches. Three finished: Champion Janneka Way's Sunny Side Up TT, a.k.a. "Sunny," Champion Janneka Way's Alabama Debut, and Champion Janneka Way's Yellow Mist. The fourth bitch was mistakenly spayed by her owner before we could show her. She is being shown in agility and is Janneka Way's Ikea Blue NA. Alabama Debut won most of her points from the puppy class with several BOBs and group placements. I kept Sunny and she is our third BISS winner. She went WB, BW, BOB, Best Bred By and Brood Bitch first at GGLRC under Michael Boothroyd. RWB was sired by Ch JanLon's By Leaps and Bounds from Hawaii. The puppies behind Sunny for Brood Bitch that day were sired by Ch Raintrees Slippery When Wet JH. They were Ch JanRod's Tammy Why Not and Ch JanRod's Chasing A Dream CGC. Tammy had gone Best in Sweeps under Betty Graham and WB and BOS under Helen Steven the year before at GGLRC. She has also gone BOS winner at several specialties, including the LRC in 2000 under Marion Lyons. Chase was WD and BOS at the DFWLRC under John Crook and has "Jammed" at many other specialties, including the Potomac. Two other puppies out of this litter have also done very well. Ch JanRod's Ivory Deja Vu is a breed winner and JanRod's Wet 'N' Wild at Brawner Cr. won Best Puppy at the 1998 LRC National. He is also major pointed.
During this time, several other dogs did very well for us, including Ch JanLon's River Wild who won two 4-point majors his first weekend out, and JanRod's Over Easy (another Sunny son) who went RWD at DFWLRC to his nephew, Chase, and WD under John Crook at SDLRC. Ch Janneka's Chance of a Lifetime (repeat breeding of Sunny) lives with my youngest daughter, Tori, and her husband, Shawn. Chance made a trip to the Dallas-Ft Worth specialty a weekend to remember. Chance arrived in Texas with 2 points from WD and BW under Jerry Weiss in California. On Friday he won the large Open Yellow class at the Specialty. Then on Saturday he went WD under Carl Liepmann for a 4-point major, and on Sunday won another WD and 4-point major! On Monday, Chance took WD, BW, and BOB for a 3-point major. 4 days and 11 points! We almost didn't need the plane to fly home.
I now had my specialty wins and I was being asked to judge sweeps at several specialties. My husband, Rod, was still traveling a lot and both my girls had gone off to college and were no longer living at home. Being home alone much of the time had an impact on my dogs and showing. Reliable help is hard to find, and with too much work to do alone, I cut back on my dog shows and dogs. Judging seemed like the next phase in my life, so in 1997 I applied for my judging license. I have now been judging for several years and really enjoying it. It has given me a better understanding of the breed as a whole and allowed me to meet some really great people that I might otherwise not have met.
I did not give up showing or breeding dogs when I started judging, but it has definitely had an impact on both. I show at fewer shows and can only show my own dogs. Choosing a stud dog for my girls is both easier and harder. I have the opportunity to see more dogs and actually get my hands on them. I also get to see what they are producing. This helps me to make an educated decision. Judging also allows me to see more dogs than I normally would, but picking only one dog from so many wonderful dogs is not an easy task. The next generation of JanRod labs will soon be ready to enter the dog show ring. We have some promising puppies out of Ch JanRod's Chasing A Dream, JanLon's First Light at Dawn, and Ch JanRod's Grizzly Bear and are looking forward to showing them and seeing what they can do.