Multiple BISS & BOSS CH HyspireSurShot Juz Bcuz Im Hot
aka Jess
DOB - 28 May 2004 Color - By
Finished at 15 months with 4 Majors, Multiple Specialty BISS & BOS Winner, National BOS Winner, RWD at LRC of the Potomac
Hips -- LR-161100G34M-PI Elbows -- LR-EL31348M24-PI Heart -- LR-CA2058/24M/C-PI-ECHO
Eyes -- LR-46845 OptiGen -- Normal/Clear CHIC -- #35353 Full Dentition
FROZEN ONLY
Living with Paul and Judy Myers in Soquel and Pacific Grove, CA
HIS SHOW RECORD TO HIS CHAMPIONSHIP
San Joaquin Valley LRC 3-18-05 9-12 Month class First Place
WD & BOS -- 5 point MAJOR -- Pieta Vandll
(over many specialty winning champions)
(in his FIRST ever show)
Dallas/Ft. Worth LRC 3-25-05 9-12 Month Class First Place
Best Puppy in Specialty & pulled for WD -- Betty Graham
LRC of the Potomac 4-13-05 9-12 month class First Place
RWD -- Heather Wiles-Fone (Heatherbourne Labradors)
Southern California LRC 12-18 month class First Place
Best Puppy in Specialty -- Richard Wiles (Richbourne Labradors)
Del Monte KC 7-17-05 12-18 month class First Place
WD -- 1 point -- Anne Katona
Richmond DFC 8-6-05 12-18 month class First Place
WD -- 3 point MAJOR -- Sally Sasser (Teracroft Labradors)
Gold Country KC - Show 1 9-3-05 12-18 month class First Place
WD -- 3 point MAJOR -- Roy Cone (Waterbound Labradors)
Gold Country KC - Show 2 9-4-05 12-18 month class First Place
WD -- 3 point MAJOR -- Jacqueline Mischou (Caer Bren Labradors)
CHAMPION at 15 months of age with 4 California MAJORS!
All under breeder judges in 6 months and 14 shows!

San Joaquin Valley LRC 3-19-06
BISS -- Roy Cone (Waterbound Labradors)
Shown by Tori Jackson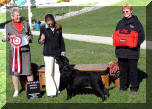 LRC National 10-13-06
BOSS -- Connie Barton
Shown by co-owner - Tori Jackson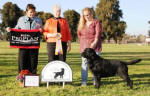 SJVLRC 09
BISS - Judy Heim
Shown by Debbie Morton
Jess has been receiving some wonderful critiques from the judges:
Richard Wiles (Richbourne)
"Well-constructed black dog of 11 months, combining power and quality. He has a good head and reach of neck, level topline, best of bone, correct front and good turn of stifle. Shown and moved well. Best Puppy."
Heather Wiles-Fone (Heatherbourne)
"Beautifully constructed, teeming with quality, loved everything about him - out of the top drawer.
Top quality dog and presented in gleaming condition, beautifully molded head, deep through the brisket, excellent body properties, super coat and tail. Loved everything about him, and in my opinion, with a little more maturity will trouble the best. His outstanding quality won him RWD today."
Roy Cone (Waterbound)
"I had the honor of putting this dog up a few months ago at the Gold Country Kennel Club to finish him. It was my honor to award him BOB at the SJVLRC specialty. This young dog has a striking silhouette, good type and great movement. He will only get better as he matures."
Click on the puppy to see some pictures of Jess puppies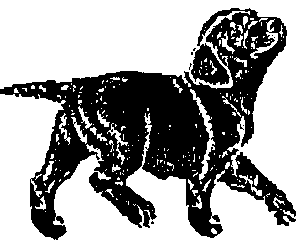 Parents
Grandparents
Great-Grandparents
Great-Great-Grandparents
Hyspire Mo Hotta Mo Betta

Optigen B1

Am Can Ch Windfall Pipe Major
BISS CH Hyspire Darktown Strutter
BISS, Int (FCI), Am & Can Ch Raintree Slippery When Wet JH OptiGen A1
Marshland Shimmer
BISS Ch Windfall Black Piper WC
BISS Ch Dickendall Arnold JH
Ch Windfall Win Storm JH
Ch Hyspire Something Amiss
BISS Ch Dickendall Arnold JH
Ch Dickendall Ruffy SH
Dickendall A-Ha
Hygate Something Wicked
BISS Ch Withara Marine Journey CD JH
Ch Coalcreek Breakin Loose
Ch JanRod's Tammy Why Not

OptiGen A by Parentage

BISS, Int (FCI), Am & Can Ch Raintree Slippery When Wet JH

OptiGen A1

Rocheby Yorkshireman
English Ch Rocheby Royal Oak
Rocheby Polished Oak
Rickway Braemar Black Ice
BISS Ch Dickendall Arnold JH
Drakemoor's California Dreamin'
BISS, Int (FCI), Am & Mex Ch Janneka Way's Sunny Side Up TT

OptiGen A1

Tweedledum Brookland Savoy
Guideline's Copyright
Jayncourt Jingle Jangle
JanRod's Kissing Cousins

OptiGen A1

Am Ch JanWood's Tigger Tremayne WC
JanRod's Sunshine Calypso