Gone, but never, ever forgotten
Photos by Carrie Grannemann, Tori Jackson and Debbie Morton
Ch JanRod's Chasing A Dream CGC, TT
7 March 1998 to 7 March 2011 Color - Yy BOB and Specialty Winner
Hips-OFA LR-104540G24M-T Elbows-OFA LR-EL10370-T
Eyes-CERF LR-26509/2005--87 Heart-LR-CA00428/40M/C-PI
OptiGen A1 Full Dentition TT-517-LR
Frozen semen available from JanRod in Pacific Grove, CA
Chase on the move
Chase as our puppy sitter
Chase received a JAM at Potomac '02 from Eva Mjelde -- Surprising's Labradors of Norway

Photo by Carrie Eberhardt
Chase has been receiving some wonderful critiques from the judges:
Penny Carpanini (Carpenny)
"Good old fashioned type. Lovely kind masculine head and expression, good top-line, free mover, well made all through but with no exaggerations, shown in good coat and condition. I liked him a lot."
John Crook OBE (Balrion)
"A strongly built yellow with not a trace of coarseness, a kind head with good pigmentation. Well boned without being over done. Well laid shoulders led into a deep body with a good spring of rib. The hindquarters were equally pleasing with well turned stifles and good second thigh. He lost no marks on his movement."
Click on the puppy to see some pictures of Chase puppies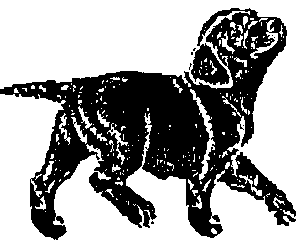 Parents
Grandparents
Great-Grandparents
Great-Great-Grandparents
BISS, Am, Dutch & Int (FCI) Champion Raintree Slippery When Wet JH

Top Producer 2002

OptiGen A1

Rocheby Yorkshireman
English Ch Rocheby Royal Oak
Poolstead Pretentious at Rocheby
English Show Ch Rocheby Acorn
Rocheby Polished Oak
English Show Ch Keysun Krispin of Blondella
Rocheby Dark Ebony
Rickways Braemar Black Ice
Am Ch Dickendall Arnold JH
Am Ch Dickendalls Ruffy SH
Dickendalls A-Ha
Drakemoors California Dreamin'
Am Ch Beechcroft Lobuff Skychief
Weatherlam Juno
BISS, Int (FCI), Am & Mex Ch Janneka Way's Sunny Side Up TT

OptiGen A1

Tweedledum Brookland Savoy
Guideline's Copyright
English Show Ch Rocheby Royal Oak
Cambremer Copy Cat
Jayncourt Jingle Jangle
English Show Ch Heatherbourne Court Jester
Jayncourt Peace
JanRod's Kissing Cousins

OptiGen A1

Major Pointed

Am Ch JanWood's Tigger Tremayne WC
World, Am, Mex & Can Ch Franklin's Golden Mandigo Am & Can CD, WC
JanRod's Sunhill Cindra
JanRod's Sunshine Calypso
Am Ch Mallard's Flying Cloud of JanRod WC OptiGen A
JanWood's All That Glitters