Multiple BOS, AM GRAND & CROATIAN CHAMPION JanLon's Tea Party at Picklecreek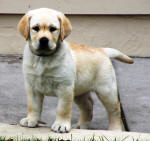 Chai at 10 weeks
6 Months
10 Months
12 Months 13 Months
Whelped - 12 September 2009 Color - Yy Champion & BOB winner at 13 months of age, multiple BISSweeps & multiple BOS Winner, Grand Champion before 2 years of age, Group Placements
Hips -- LR-194706G24F-VPI Elbows -- LR-EL52339F24-VPI OptiGen A by parentage Eyes Cerfed Clear at 8 weeks Heart Color Doppler Clear
Living with us at JanRod Labradors in Pacific Grove, CA
HER SHOW RECORD
Dallas-Fort Worth LRC #1 04-09-2010 6-9 Month Sweeps Class 2nd Place to Best In Sweeps
First Show - Marion Daniels - Mar Moye
Dallas-Fort Worth LRC #1 04-09-2010 6-9 Month Class 1st Place and RWB to a 5-Point Major & BEST PUPPY IN SPECIALTY
Jon Roger Sauge - Mambrinos
Dallas-Fort Worth LRC #2 04-10-2010 6-9 Month Sweeps Class 1st Place and BEST IN SWEEPS
Susan Eberhardt - Saddlehill
Dallas-Fort Worth LRC #2 04-10-2010 6-9 Month Class 4th Place
Elizabeth Bowron - Fortune
LRC of Potomac 6-9 Month Sweeps Class 1st Place and pulled for Best In Sweeps - Class of 37
Linda Bednarski - Tullamore
LRC of Potomac 6-9 Month Class 3rd Place - Class of 36
Julie Bedford - Croftsway
Ventura KC Bred By 3rd place to WB
Del Monte KC #1 Bred By 1st Place and RWB
Del Monte KC #2 Bred By 1st Place, WB, BW & BOS for 1 Point
Richmond KC #1 Bred By 1st Place, WB & BW for 1 Point
Richmond KC #2 Bred By 1st Place and WB for 2 Points
Reno KC #1 Bred By 1st Place and WB for a 5 POINT MAJOR
Reno KC #2 Bred By 1st Place and RWB
Go Green Regional Sweeps 9-12 Months 2nd Place
Faith Hyndman - Buckstone
Go Green Regional Bred By 2nd Place to WB and RWB
Pluis Davern - Sundowner
LRC National Sweeps 9-12 Months 1st Place and BEST IN SWEEPS
Jennifer Stotts - Shannon Valley
LRC National Bred By 1st Place and BEST BRED BY
Kendall Herr - Dickendall
Golden Gate Labrador Retriever Club 12 - 15 months Sweeps 2nd Place
Shannon Carlton - Sheabourne
Golden Gate Labrador Retriever Club Bred By 1st Place, WB and BEST BRED BY for a 4 POINT MAJOR
Linda Bednarski - Tullamore
Del Valle Kennel Club #1 Bred By 1st Place, WB and BW for a 5 POINT MAJOR & CHAMPIONSHIP
Sally Sasser - Teracroft
Sacramento Valley DFA #1 BOB
Pluis Davern - Sundowner
Chai has been receiving some wonderful critiques from the judges:
Julie Bedford-Pope (Croftsway)
"Strong but feminine - very pretty headed cream bitch. Lovely neck and shoulders. Nice quarters. Good topline and tail set. Moved well."
Linda Bednarski (Tullamore)
"Another beautiful class whose quality will influence the future of our breed. Beautiful driving movement, a perfect face, fabulous pigment and eye color, short hocks, level topline and personality to go with it all."
Parents
Grandparents
Great-Grandparents
Great-Great-Grandparents
BISS Am Ch Dickendall Davaron Gable

OptiGen A

BISS Am Ch Dickendall Arnold JH
Am Ch Dickendall Ruffy
Am Eng Ch Receiver of Cranspire JW
Am Ch Moorwood Jewel
Dickendall A-Ha
Am Ch Marshland Blitz
Dickendall Rose Royce
Wolvercote Gaity Girl
Eng Ch Sandylands Gad-About
Eng Ch Sandylands My Guy
Eng Ch Sandylands Bliss
Kimvalley Geisha Girl at Wolvercote
Eng Ch Sandylands Gentry
Kimvalley Last Fling
JanLon's Hearts Afire

OptiGen A

BISS AM Ch JanLon's Light My Fire
Am Ch Langshott Gale Force From Kimvalley
Eng Ch Sandylands Gad-About
Kimvalley Follow On To Langshott
JanLon's Til Morning Comes
BISS Am Ch Dickendall Arnold JH
BISS Int (FCI) Am Mex Ch Janneka Ways Sunny Side Up TT
Kisatchie JanLon's Dream Catcher
Am Ch JanRod's Chasing A Dream TT
BISS Int (FCI) Am Ch Raintrees Slippery When Wet JH
BISS Int (FCI) Am Mex Ch Janneka Ways Sunny Side Up TT
Kisatchie Cover Girl
Banners Windfall Lucas
Kisatchie Savannah Heat